Jcdecaux london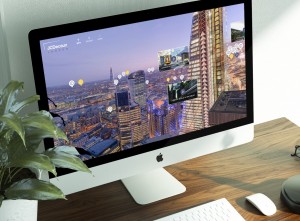 Description
JCDecaux, the world's largest and UK's number one outdoor advertising company, commissioned us to build a dedicated website for their London Digital Network (LDN) campaign as JCDecaux took over the world's largest bus shelter advertising concession in London.
OUR APPROACH
Firstly we answered the question 'Why London?' by presenting the unique power of London as an advertising territory – the capital's major retail zones where £1 in every £5 of the UK's retail spend takes place. We used an astonishingly vivid 'gigapixel' 360 degree panorama photograph taken by Will Pearson from the top of The Gherkin. The app allows the user to explore around the city; take video tours of some of JCDecaux's activities such as the incredible Jurassic Park 'take over' at Waterloo; view CGIs of the new state of the art bus shelters; and also to zoom into any of London's Retail Zones to view retail data and interesting facts.
The Second stage 'Where', allows the user to plot their optimal campaign on a map of London based on a number of criteria using the incredibly powerful SmartBRICS platform. An example campaign could be as specific as 16-24 year old Fashionistas talking about Nightlife near Luxury Retail Zones.
The Third and final stage lets the user visualise their campaign on an example bus shelter. They can contextualise the background to an area of their choice, and just as LDN optimises your campaign based on a range of variables, you can also see how your campaign creatives change based on whether it's raining or sunny. You can even embellish your advert with social media feeds – via tweets as well as posts from Facebook or Instagram.
ROB STONE, FOUNDER CEO
WHAT THE CLIENT SAID
The LDN will be a network of 1,000 brand new 84inch digital screens – 40% larger than the existing screens and the biggest deployment at this scale. The new LDN network will offer a cocktail of data on spend, opinion, audience, search and locations. Appropriate application of this data will allow advertisers to target their audience at optimum moments, so advertisers can choose the right ad, for the right person, at the most appropriate time of day.
JCDecaux required a website that demonstrated each of these points in a clear and visually compelling way to assist our Sales teams as they took the LDN to market. The Web Kitchen created an engaging and easy-to-use web application that not only showcases the data on the different Retail Zones around London, but also allows advertisers to create their own example targeted advertising campaigns on the site.
DAVID MCEVOY, MARKETING DIRECTOR, JCDECAUX UK
Vote for the project
Vote is not activated