Return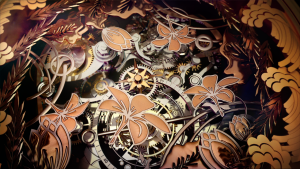 | | |
| --- | --- |
| Project name | Return |
| Category | Computer Animation |
| Registration date | 19 July 2016 |
| Author | HYEJI JEON |
| Status | Approved |
Description
Human created the amazing world with the base of high technology and culture, but if we consider about the origin of every human creature, most of them were originated from nature and it is difficult to beyond the natural creature. There are many people who can't feel the beauty of nature and importance of nature in their fast life. Therefore I had an intention in the process of making demo reel to remind people about the real important value of life.
The reason to select the beetle : I selected a beetle as the main subject to show the process of change from soft and weak larva to beetle that is very strong because I thought that subject can deliver the message of mysterious images of nature.
My expression was about returning to the nature with various shape of Watch parts and I specially stressed the clock that rolling reverse.
Vote for the project
Vote is not activated